Why Fat Transfer?
Some women don't like the idea of implanting a foreign element in their body. And so, there has been a search for alternative treatment against popular hospital breast transplant surgeries. Transferring body fat is a relatively newly found technique which is now being widely used in breast reconstruction after cancer.
Silicon implant which has so far being the most popular alternative to increase size of women assets may have some serious concerns in the long run such as – capsular formation, migration and rippling, which has led many to avoid that route. Further, these implants may look and feel too artificial causing women to undergo further procedure to remove those. Fat transfer,on the other hand, is a natural way of increasing breast size. However, it has certain limitations and therefore, one must make an informed choice.
If you are looking to increase size of your breasts significantly, then you must know that fat transfer restrict increasing size by only one cup size. Candidates with larger breasts, hanging breasts or with a family history of breast cancer aren't generally regarded for this treatment. Since it's a natural process it has certain advantages and side-by-side, disadvantages which we have listed below for your convenience.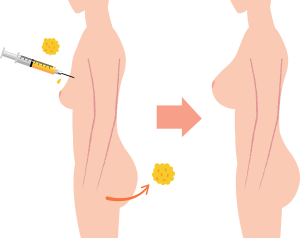 On The Plus Side
It is safer than traditional implant procedures, i.e. silicon implant
It serves dual purpose, i.e. body fat is removed from unwanted parts of body and transferred to breasts
It looks more natural as patient's own tissue is used
No issues with scaring; tiny scars, barely visible
Local anaesthesia is used and hence, safer
The technique has evolved over the years and now the most sophisticated technique is used
On The Flip Side
There can be occasions when patient doesn't have enough fat to transfer
It is more expensive than the other forms of surgery and might not be covered by your health policy
Patients would need to undergo regular mammograms to monitor chances of developing breast cancer in future
The result of the procedure is limited only to one cup size improvement
Patients with family history of breast cancer aren't regarded ideal for such procedure
About NuBodySculpting Fat Transfer Surgery
NuBodySculpting is a trusted name when it comes to advanced cosmetic surgery procedures.  We are one of UK's oldest and the most revered names. Started by a group of young medical profession enthusiasts we now offer a complete range of latest cosmetic and aesthetic surgery solutions to a large clientele. Our services are offered amidst most modern set-up with the latest state-of-art techniques in all the thirteen clinics that we have across UK. We provide full before and after surgery consultation to help patient's deal with stress and strain.
As a part of the process we impart complete knowledge about what to expect out of a surgery so that patients can decide and prepare themselves better. Side-by-side, there are also easy financing options that allows patients pick up a comfortable financing plan to meet the budget of the procedure. To learn more about our services, call us today or arrange for a call back for free consultation. Book Your Free Consultation Today